Artius Wins Gold Coast Business ExcellenceAward
Artius have been awarded Gold Coast Business Excellence Award in the Health and Wellbeing Category for September 2015.
The Health and Wellbeing category is sponsored by Pindara Private Hospital and showcases businesses who supply products or services that contribute towards health and wellbeing initiatives for the Gold Coast and wider communities.
"We are excited and privileged to receive this award. This marks the third year running where Artius have been recognised for these prestigious and competitive awards" said Managing Director Paul Stokes.
Ten criteria contribute to the judging of category winners including; management practices, innovation, product and service delivery, environmental practices, citizenship and future plans for the organisation.
"Winning this award is a testament to the contribution each Artius team member makes toward helping people, business and communities to reach their potential," said Paul Stokes.
Paul and Libby Stokes, Artius founders, were formally presented with the monthly award on September 30th by Jan Lloyd - Director of Clinical & Hospitality Services, Pindara Private Hospital at a ceremony hosted by Griffith University. As a monthly award winner, Artius will be invited to attend the Gala Evening at Jupiter's Hotel and Casino where they will be in the running for the Health and Wellbeing business of the year as well as the Gold Coast Business of the Year.
About Artius
The Artius mission is to help people, businesses and communities to reach their potential. We do this through managing and delivering health programs, employment programs and vocational training programs.
'It doesn't matter where you join us on your life journey, we will help you reach your potential'
Media Contact: Cassandra Sandison
Marketing Manager
P: (07) 5644 9770
E: Cassandra.sandison@artius.com.au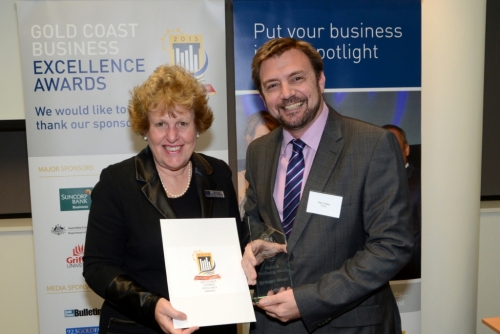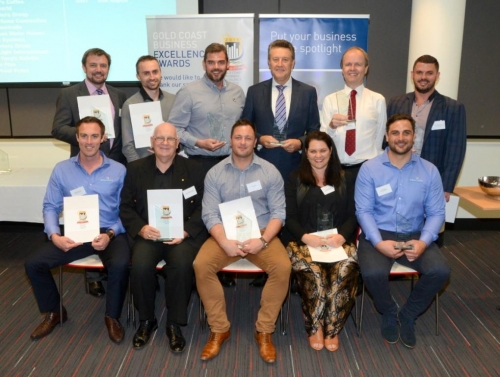 Paul Stokes, Managing Director of Artius, is presented with the Health & Wellbeing category award by Jan Lloyd of Pindara Private Hospital, at the September award ceremony.
Winners of th September Gold Coast Business Excellence Awards.