Mental Health Group Programs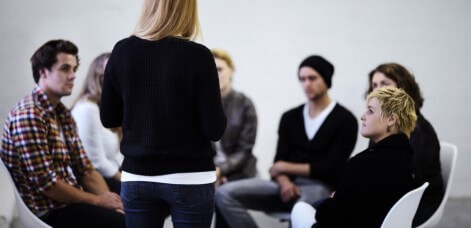 COMING SOON!

Artius Health will deliver a range of NEW Mental Health Group Programs.
Our caring and highly experienced Psychologists will deliver targeted programs to assist participants with a range of specific mental health issues in a safe and non-judgemental group environment.
Which group programs do we offer?
Anger Management ("Keeping Cool"): For adults (adults) who would like to improve their anger regulation ability.
Assertiveness ("Be Your Own Super Hero"): For adults (adults) who would like to improve their assertiveness.
CBT (Cognitive Behaviour Therapy): For adults (adults) who would like to manage their anxiety and/or depression.
Anxiety: For adults (adults) who would like to manage their anxiety.
Where are they held?
Each program will be held face-to-face at our Gold Coast (Helensvale), Ipswich & Sunshine Coast (Maroochydore) clinics.
How much do they cost?
Full fee: $49* per session
Concession fee: $39* per session (with a Pension or Health Care Card)
Referrals are not required for these programs; however, Medicare rebates may apply with a valid Mental Health Care Plan.
(This is IN ADDITION to Medicare rebates for individual sessions.)
*Rates are per session. Programs may vary in duration and some programs may be run over several sessions.
(Example: 3 x $49 sessions = $147 for a program run over 3 sessions.)
Program Benefits
Group programs can help you to:
Normalise & share similar concerns with others in a non-judgemental environment
Explore your specific concerns in-depth
Hone the skills required to manage these concerns.
These programs can support you while you wait for ongoing individual therapy OR complement your existing therapy.
Register Your Interest NOW
Places are strictly limited. Please contact us to secure your place on our waitlist:
E: health@artius.com.au
P: 1300 764 003
Please provide your name, contact details and the program/s you're interested in.

We will contact you as soon as these programs are open for enrolment. Programs will run as soon as it is COVID-safe to do so. Your health and safety is our priority.
Please phone 1300 764 003 or email health@artius.com.au for all enquiries or to discuss your eligibility/program suitability.