Australian Workplace Mental Health
Mental ill-health presents a significant cost to Australian businesses. According to the Australian Bureau of Statistics 45% of Australians aged 16-85 will experience a mental health condition in their lifetime. Mental Health conditions cost Australian workplaces $10.9 billion per year. This is measured as the total cost of absenteeism ($4.7billion), presentism ($6.1billion) and compensation claims ($145.9million) across all industries1.
A survey of Australian workers showed one in five employees had taken time off work due to feeling mentally unwell in the previous 12month period2. The findings showed that those who considered their workplace mentally unhealthy were almost four times more likely to take time off work in the same time period.
So what is a mentally healthy workplace?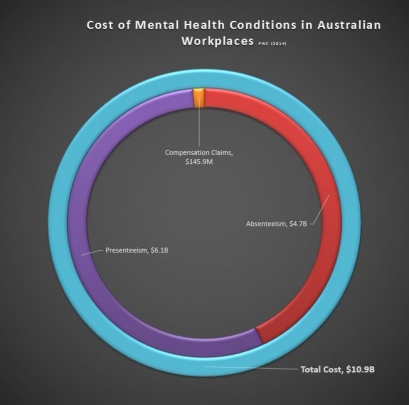 "A mentally healthy workplace is one that protects and promotes mental health and empowers people to seek help for depression and anxiety, for the benefit of the individual, organisation and community2 "
According to the 2014 State of Workplace Mental Health of Australia report2 conducted by TNS Research for Beyond Blue, mentally healthy workplaces were just as important to Australian employees as physically safe workplaces, however only 52% of employees rated their workplace as mentally healthy compared to 76% who felt their workplace was physically safe. Further, the most significant contributor to whether an employee rated their workplace as mentally healthy was value their senior managers placed on good mental health.

1 in 5 Australian Employees have taken time off work due to feeling mentally unwell in the past 12months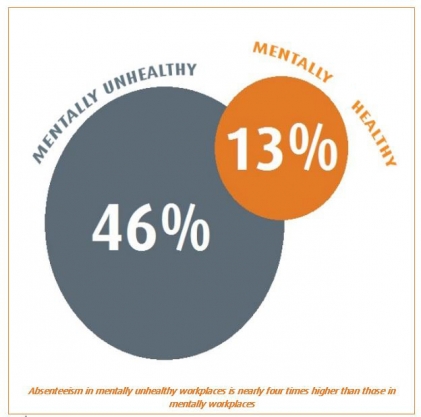 Although 81% of managers indicated their workplace had one or more policies, procedures and practices in place in support of mental health, as little as 35% of employees were aware of them, indicating the crucial importance of mental health initiative implementation.
While every person can do their part to improve mental health in the workplace, change must start at the top. As a business owner, manager or member of the leadership teams you have a critical role to play in driving policy and practice that promotes mental health within your organisation. The key result from the research is the need for businesses to place the same importance on employee mental health as physical health and safety.
Here are some tips to assist you to positively influence workplace culture, management practices and the experience of your employees:
IDENTIFY: Examine the triggers of poor mental health within your business environment, such as changes to operations or change of key staff members, and tailor actions to address these risks. An occupational health provider can assist you by performing an analysis on your businesses;
IMPLEMENT: Workplaces should ensure policies, practices and programs are in place within your organisation that encourage employees to seek help for mental health conditions. Some workplaces may consider a formal Employee Assistance Program to assist them with this;
PROMOTE: Resources to protect employee mental health should be promoted within the workplace to ensure employees are aware of them, demonstrating senior management's commitment to the importance of mental health and reducing the stigma surrounding it;
PROVIDE: Mental health training can be an effective way of equipping employees with the skills and knowledge to manage their own mental health as well as supporting their colleagues.
About Artius
The Artius mission is to help people, businesses and communities to reach their potential. We do this through managing and delivering health programs, employment programs and vocational training programs.
Artius provide businesses with FREE Corporate Health Checks, which you can use to scan your organisation to identify mental health risks and tailor actions to address them.
to book your FREE corporate health check

'It doesn't matter where you join us on your life journey, we will help you reach your potential'

PWc. (2014) "Creating a mentally healthy workplace. Return on investment analysis" [Online] https://www.headsup.org.au/docs/default-source/resources/bl1269-brochure---pwc-roi-analysis.pdf?sfvrsn=6 Accessed 9th October 2015
TNS. (2014) "State of workplace mental health in Australia" [Online] https://www.headsup.org.au/docs/default-source/resources/bl1270-report---tns-the-state-of-mental-health-in-australian-workplaces-hr.pdf?sfvrsn=2 Accessed 9th October 2015