Nine signs your workmate's mental health might be suffering
Mental illness can affect anyone at any time and it is highly likely you will supervise or work with someone who is going through a time where the mental health is suffering. In our recent article Workplace Mental Health we reported that each year 20% of Australian workers are likely to experience a period of mental illness.
During our working yea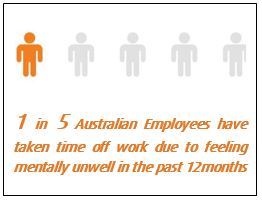 rs we spend around 40% of our time at work. We develop close relationships and are often the first to notice that something is not quite right with a workmate or an employee. While it's not your role to diagnose or treat them, you can play a vital role in recognising the symptoms and helping your workmate to get the support they need.
Here are nine signs that someone you work with may be suffering symptoms of mental ill health.
Turning up late to work
Struggling to meet reasonable deadlines
Withdrawing from colleagues
Having difficulty concentrating or managing workload
Appearing restless, tense or on edge
Being unusually tearful or emotional
Getting easily frustrated with tasks or people
Calling in sick more frequently
Increasing self-critical and pessimistic thoughts

The changes in someone's behaviour can be subtle and you may not feel it is your place to intervene or that mental health is a private issue, but having a conversation with them and checking if they're OK can be the first step in getting them the support they need.
About Artius
The Artius mission is to help people, businesses and communities to reach their potential. We do this through managing and delivering health programs, employment programs and vocational training programs.
Artius provide businesses programs to improve the mental health of their organisation and workers. We attend your place of business to perform a free corporate health check to put in place a plan to improve worker wellness.


Click here to book your FREE corporate health check today
'It doesn't matter where you join us on your life journey, we will help you reach your potential'